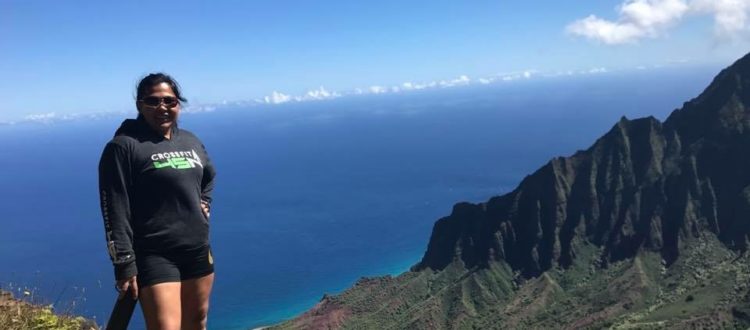 Athlete Showcase February 2018 – Maryann Esteban
ATHLETE SHOWCASE – February 2018
Maryann Esteban
Your Sign:  Capricorn
Your favorite CrossFit movement: Snatches
Your most hated CrossFit movement:  Push Press
How long have you been a part of a CrossFit community? 2 years I think
Why do you CrossFit? To better myself and to eat whatever I want because I love food too much
Dream location to visit:  Korea and Brazil
Favorite past-time:  Watch Korean soap operas
Family (human and non-human):  Husband Rod, 2 amazing boys Andre and Luke and 2 cute dogs Carma and Susie
Occupation: Grocery clerk
Favorite book: Twilight
Diet: See food diet
​​​​Favorite meal/food: All foods are my favorite 
​​Music preference during workouts: Maryann playlist courtesy of Coach Greg ​
Do you drink a gallon of fluids a day?  Yes 
Favorite/Most memorable CrossFit moment? Friday night lights.
If you could be an animal, what would you be? Panda
What do you do to relax?  Watch TV
High school you attended:  Farrington high school in Hawaii
City and State of birth:  Philippines
Favorite/Lucky number(s):  7
Anything else you would like to share:  When I started CrossFit My goal was to just to feel good about myself. but I got more than that.I realize that I didn't just joined a gym but I joined a community filled with amazing people and gained amazing friends that I call now my Ohana's. 45N you guys made me realize that working out can be fun. Thank you and Love you guys
You guys can't get rid of me now
.