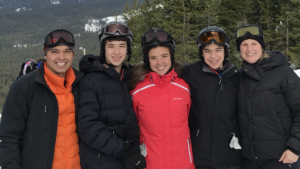 Athlete Showcase November 2017 – Jorge Castaneda
Athlete Showcase – November 2017
Jorge Luis Castañeda Abarca
Your Sign: Virgo
Your favorite CrossFit movement: Power clean
Your most hated CrossFit movement: Overhead squat
Why do you CrossFit: It makes me feel good about myself.
Dream location to visit: I would like to explore Australia
Favorite past-time: I like to watch my kids play soccer and travel with my family.
Family (human and non-human): Nancy (wife), Mia (19 yrs., daughter), Ian (17 yrs., son), Bailey (14 yrs., son), Chewie (dog)
Occupation: Project Manager
Book you are reading: I really only read journals and manuals and very rarely a book.
Favorite book: I like adventure books
Diet: I have to eat everything my mom makes or she will get upset. Just no mustard.
Favorite meal/food: Street tacos and Thai food.
Music preference: 80's and 90's music and pop in Spanish
Music preference during workout: classic rock
Do you drink a gallon of fluids a day? Yes, if I include beer
Favorite/Most memorable CrossFit moment: I like the group competitions in the box when everyone is cheering for each other.
If you could be an animal, what would you be? A lion
What do you do to relax? My kids say, "watches tv but ends up falling asleep on the couch"
Favorite color: red
High school you attended: Forest Grove High School
City and State of birth: I was born at home in Maquili, Michocan, Mexico. It is a small village along the Pacific Coast.
Favorite/Lucky number(s): 9
Anything else you would like to share: I come from a large family. There are 10 boys, 2 girls, and my parents. I am the 11 th child.  All are very hard workers.