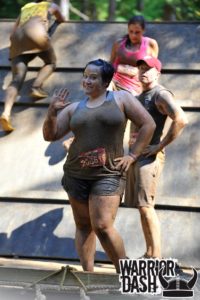 Athlete Showcase October 2015 – Alley Van Rhyn
Athlete Showcase – October 2015
Alley Van Rhyne
City and State of birth:  Monrovia Liberia, in West Africa. Seriously.
Favorite color:  Black.  I'm a recovering Goth!
High school attended:  Santiago High School in Corona, CA
Family:  Just my husband Jay, here, and most of my family in Las Vegas or the Philippines.
Occupation: Business insurance underwriter.
What do you do to relax?  I like to binge watching TV shows in my underpants.  Currently, I'm watching Cinemax's Strike Back, but I've recently powered through Orange is the New Black, Arrow and Mr. Robot.
Favorite book:  Across the Moonlit Sea. Pirate romance.  It's not as thrusty as my favorite show (Black Sails), but how can you not love pirates?
Book you are reading:  Pleasure Unbound  By Larissa Lone.  Scandalous!  Don't Judge.
Diet:  I've been following the Eat to Perform program since the first of this year and, while it took a few months for the system to kick in (which is expected), now I feel like Metcons are easier, PRs come frequently and I'm hardly ever sore.  But for all of that, this diet scares me because I have to EAT.  I've struggled with my weight for so long and tried so many kinds of diets.  Usually they require you to starve, or live off powder, or give up everything that makes food enjoyable.  Now, it's just about the nutrients and I'm eating more than I have for years, yet it seems to be working.
Favorite meal/food:  Anything French…or pasta.  Mmmm. Pasta.
Music preference:  Euro dance music and synth pop.  Depeche Mode is the greatest band ever!
Dream location to visit:  A tour of Europe, seeing all the old historical places.  I'd love to see Rome and Bruges.
Random bits of info:
I've always wanted to work in entertainment, either acting, or dancing or even wrestling. I could totally be a WWE Diva.  But my own lack of confidence and fears have always stood in the way.  I don't audition because of how I feel I look and I'm always afraid I've failed before I start.
I was a competitive gymnast as a kid. When I knew I wasn't going to be on the Olympic cycle, that kind of started my struggles with my confidence and my weight.
I want a dog. Basset Hound is my favorite breed.
I want to inspire other women. I feel like we live in a world now where you can't ever win: You're too fat, too skinny, too muscular, and so no one is ever happy.  I want to do anything I can to change that.
I used to play World of Warcraft and Dungeons & Dragons with my husband. But I am not a gamer.
I love horror movies but I scare super easy.
I believe in always finishing strong. The landing is the last thing the judges see, so if you've had a crappy workout or a poor performance, just grit your teeth and make a lasting impression with your last breath.  Make the last round your best round.