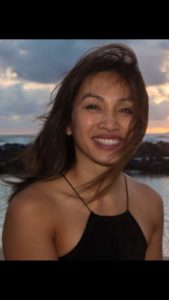 Everyday Warrior February 2015 – Cindy Lee
Everyday Warrior – February 2015
Cindy Lee
Cindy had just decided to stop waiting around and start living life on her own terms when her entire world was shaken to its core.
After ending a marriage of 20-years, selling and buying a new home, this mother of three met her soul mate, David, in a chance encounter at a local coffee shop — all within a single year. These major events in Cindy's life were all a result of deciding to not lead a life full of regrets after watching two other young people pass away unexpectedly.
At the pinnacle of happiness with her newfound love, planning a wedding and happily-ever-after, Cindy was diagnosed with Stage IV Lung Cancer. The months of back pain, wheezing and coughing up blood she had experienced prior to this news had been misdiagnosed as everything from bronchitis to silent acid reflux, but after a CT scan at the persistence of David, the prognosis was grim. Two years to live at most — 6-12 months more likely.
This is not acceptable for someone like Cindy.
Cindy had been a long distance runner for years, only competing at distances of half marathons (~13.1 miles) or more. She had great stamina and endurance, but felt weak. Many of her friends had taken up CrossFit, but she felt it was too expensive and opted for P90X knowing she needed to build up her strength. Just before hitting the 90-day mark, Cindy tweaked her shoulder while attempting a pull-up and knew she needed some help. She had seen such a transformation in her friends doing CrossFit, she knew she had to try it. In July of 2010 a nearby box was offering a 90-day promotion and Cindy, who's all about targeted goals, jumped right in.
The first day was a bit overwhelming, but as with most CrossFit communities, everyone was so welcoming and supportive. Having never touched a barbell before, Cindy had to scale most WODs, which was frustrating with such an athletic background. "The adrenaline in just those few minutes, the challenge of pushing yourself and the support from those around you. Needless to say, it didn't take me long to drink the Kool-Aid," she recalls.
Like she's done since 2010, Cindy continues to exercise. Her goal, even during treatment, is to continue training 6-days a week. At the suggestion of a friend and fellow Featured Warrior, Stephen Berry, she's added in nightly strength training to pump more oxygen through her system. Cindy says, "some days it feels so hard to get up and go in but every single time I feel so much better working out and seeing my friends at the box."
In addition to the physical benefits of continued CrossFit training, her community at CrossFit 45 North continues to provide tremendous support. On Cindy's first day back after her diagnosis, many members of her box and CrossFit SW Beaverton joined her regular 5:15am crew to welcome her back. She was met by dozens of friends; all there to show their support and she definitely felt the love. Many have even offered to prepare meals or help around the house — so far Cindy has declined those offers. "I just want to live normally and not like I'm sick, but I know they are there for me when I need them," she says.
In addition to her extremely supportive CrossFit community, Cindy's family provides tremendous motivation. She's recently married the love of her life, David Archibald and has three kids (Ben-13, Brandon-11, and Madison-9) and two stepchildren (Evan-22 and Andes-19).
"I want them to know that I'm not going to give up and that I am fighting to be with them for as long as I can. I am also very competitive so I have this internal competitiveness with myself to beat my last time, my last score. My goal is to compete in CrossFit again and always test myself."
Everyday Warrior is so proud to have Cindy join us as a Featured Warrior. You can keep up with her by visiting her Caring Bridge Journal.