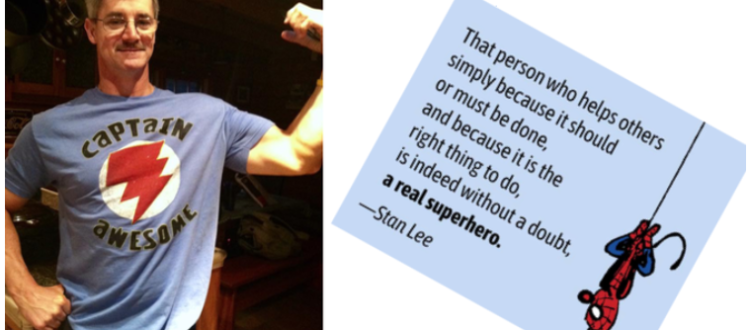 *|MC_PREVIEW_TEXT|*


~November 2018 ~Birthdays  ~Upcoming Events/Seminars ~ROMWOD link  ~Showcase Athlete  ~Any Soldier Donation  ~What is your Goal ~Gobbler Gauntlet Pictures  ~Holiday Party ~Shaved Brussel Sprout Salad
November 2018
For an amazing superhero creator, Stan Lee, to describe our friend and personal superhero, Stephen Berry, is a perfect way to begin this months newsletter of gratefulness and appreciation.  Our community has suffered the loss of our real life superhero, Stephen Berry, on October 23, 2018.  
We have come together to celebrate Stephens life and legacy before his passing and we will again celebrate this Friday, November 16th.  At CrossFit 45 North, on Friday evening, 6pm, we will host an EveryDay Warrior FNL (Friday Night Lights) style workout.  The workout will be the 3rd and final workout posted for the EveryDay Warrior Battle Series.  This workout will be in memory of both Stephen Berry and Cindy Lee, our EveryDar Warriors and real life Superheros, who have been reunited and are now able to WOD together again!  We miss them both terribly.  Come join us and bring any family and friends to have an awesome celebration of our friends' lives and our EveryDay Warriors! 
I do want to be sure to touch on loss.  We have not only suffered this loss as a community but also as individuals.  Therefore, we too will process as a community and as individuals.  We all know we must process and mourn, but knowing it doesn't make it easy to do.  It is important to note that mourning is a natural process we all must go through to accept a loss.  Even though it is hard to show our loss, grieving is the normal and outward expression of loss. Grief can be expressed physically, emotionally, and psychologically.  There are multiple ways to help with your mourning and grieving and it is amazing to see how a community, let alone a community of great people, can help each of us effectively cope with our loss and pain.  
Surrounding yourself with caring, positive people who will listen to you express your feelings and fears, is just what we all need and have at 45 North.  Taking care of our health, exercising, sleeping and eating well, are what we all strive to do to help us recover.  We want to instill good health and good living to help remind you that life is for living and we can keep living to carry on the legacy that our friends have taught us.  Be patient with yourself and the time you need for mourning and grieving.  We are here as your family to help you along the way.  With patience and effort to acknowledge your needs and the use of the community we all have created for support, the pain and loss will lessen, leaving you with cherished memories of these special people we have lost.  They will never be lost to us at CrossFit 45 North because Stephen and Cindy live on through each of us, simply because they showed us how to be EveryDay Warriors and EveryDay Superheros.  
Cheers to living life to its fullest and helping make our community and the people around us, the best versions they can be.  CrossFit 45 North knows how to make a difference in the lives of others, check out what Jaime Larson did below!  
Be sure to check out our upcoming holiday hours and come join us for some holiday workouts!!  
——————————–
Upcoming Holiday Hours will be as follows:
Thanksgiving Day (Nov 22) – 9:00am ONLY.
Black Friday (Nov 23) – 9:00am ONLY. 
Christmas Eve (Dec 24) – 9:00am ONLY.
New Years Eve (Dec 31) – 9:00am ONLY.
Christmas Day (Dec 25) – CLOSED.
New Years Day (Jan 1) – CLOSED.
——————————–
NEW and RETURNING Athletes:
Welcome to our newest members: Johnathan Stark!  We are so excited to have you within our community and can't wait to see what you accomplish! 
Welcome BACK:  Carsen Day and Justin Davis!  We have missed you and are excited to have your energy back in the community!
Be sure to wish these awesome athletes a Happy Birthday!!  
From all of us at CrossFit 45 North – May all of your birthday wishes come true! 
 

November Birthdays

Melody Vega – November 26
Jamie Mertz – November 30

December Birthdays

Carl Moyer – December 15
Jay VanRhyn – December 28




ROMWOD @ CrossFit 45 North
(Range Of Motion Workout Of the Day)

Did you know? You can sign up for a free 7 day ROMWOD trial.  If you love it, get signed up by clicking on the picture.

Give ROMWOD a try and get all flexy and swole!  Its great for a rest day workout.

Click on the photo to check out their site and sign up with your fellow athletes at CrossFit 45 North.

For 2018, we will have a clinic/event planned by your coaches and peers for each month in 2018.  If you have any ideas for future clinics/events, let us know!

————–

 

Holiday Party & Christmas Movie Marathon Row

 

When: December 1st

Who:  Anyone interested in doing a team marathon row!  $10pp between 4-10 athletes on a team which will be chosen at the event at 10:30.

Time: Doors open at 10:00, teams will be created at 10:30 and rowing will start immediately following team creations.

Where: CrossFit 45 North

Other Info: Wear your ugly sweater, bring a white elephant gift (white elephant to start sometime between 12-1), bring some food to share and drinks to drink.  

Family friendly for sure with kid friendly Christmas Movies projected on the wall throughout the entire Marathon Row!
ShowCase Athlete
November 2018
Kryssia Diaz 
Thanks to Jaime Larson for organizing a care package collection for the soldiers of our United States Military.  Here is Jaime's post after packaging up all the goodies collected by everyone at 45 North!  This is a perfect example of hour our community is making the community and the world a better place 🙂  
Thank you so so much Jaime!
"For anyone who has ever rolled their eyes or had a fear response when someone says "I do CrossFit": today I mailed off 4 large boxes to a military unit through Any Soldier thanks to the generosity and enthusiasm of my fellow 45 North folks. I cried multiple times as I boxed these up, each filled with snacks, hygiene products requested, and multiple notes of gratitude and support. CrossFit is not only about pushing your body beyond what you think you can or PRs, it's really about the community. Thank you, CrossFit 45 North, for all that you do for your community. (Dog for scale) 
Also, really grateful I have become strong enough to carry all those boxes into the post office 
Two things I encourage you all to do: 1. Find your fitness community, whether it's one person or 50 and 2. Look into Any Soldier. They do amazing work for our deployed military." – Jaime Larson
 
Follow this website, or click on the photo above, to see what
Any Soldier
is all about and how it is helping our soldiers get through their tours with some items from home.
Gobbler Gauntlet
On Saturday, November 10th, we had some 45 North All-Stars compete at the 2018 Gobbler Gauntlet in Salem, OR.  
Congratulations to Team "Rx N' Effex" (Sarah Glidden, Amanda Bracken and Jaime Larson) and Team "The ThreeMustGetBeers" (Micah Ritschard, Justin Davis and Jay VanRhyn) for doing an amazing job at the Gobbler Gauntlet!  You stepped out of your comfort zone, excelled and represented yourselves and 45 North well.  You all make us so proud!
Merry Christmas Holiday Movie Marathon Row

CF 45 North Holiday party!
Saturday, December 1st
Doors open at 10:00am; teams to will be created at 10:30 and rowing will start immediately following team creations!!
We thought we would do a fun team competition, while watching Holiday Movies (Elf for sure and two others tbd) and celebrating the holidays with our CrossFit 45 North Family and Friends! 
FOR THE PARTY
– This will be our 2018 holiday party. So wear your ugly sweaters, bring your families, grab a white elephant gift, bring a dish to share and bring drinks of your choice!! This will be an all afternoon party/hang out/cheer session. Christmas/Holiday movies will be projected on the wall throughout the team row, about 5ish hours.  The white elephant gift exchange will start sometime between 12 and 1pm.
FOR THE ROW
– Teams of 4-10 will be created at 10:30 and the teams will work together to complete a MARATHON ROW (42,195 meters). Team members can row for as much or as little as they prefer. While not rowing, team members can cheer on their teammates and mingle with the community!
Ingredients
1 tablespoon cider vinegar

1 tablespoon dijon mustard

2 teaspoons honey

1 small garlic clove, minced

2 tablespoons olive oil

1 pound Brussel sprouts, halved and thinly sliced

1 small red onion, halved and thinly sliced

1/3 cup dried cherries, chopped

1/3 cup chopped pecans, toasted
Preparation
Whisk together first four ingredients; gradually whisk in oil until blended.

Place 

Brussel

 sprouts, onion and cherries in a large bowl; toss with dressing.  

Refrigerate, covered, at least 1 hour.

Stir in pecans just before serving

.