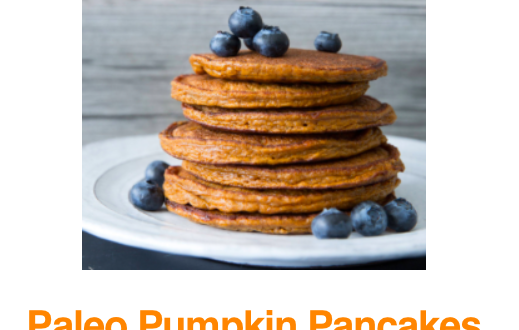 *|MC_PREVIEW_TEXT|*

~October 2018 ~Birthdays  ~Upcoming Events/Seminars ~ROMWOD link  ~Showcase Athlete  ~We Saved Lives  ~What is your Goal ~Glute/Ham Activation Clinic Pictures  ~Holiday Party ~Massage Therapy ~Pumpkin Paleo Pancakes
October 2018
"Best fall weather ever", is what is being echoed all across the land.  Are you taking advantage of the beautiful weather and our gorgeous pacific northwest  views?  If so, we want to see it!  Tag us (@crossfit45north) in your photos on Facebook, Instagram, Twitter, etc!  Our goal is to help you be more functional in life and we want to see the outcome 🙂
Even though it doesn't seem like Christmas is near, we want to help you out before the holiday frenzy begins.  We want to start by reminding you that we offer an "On-Ramp Program" for people who are new to CrossFit or just need a little refresher.  Do you know someone who wants to start but is a little nervous?  Or maybe you know someone who did CrossFit a number of years ago and is worried about getting back into it?  For Christmas, purchase an On-Ramp Package as a stocking stuffer.  The On-Ramp Package includes 3, one-on-one, 60 minute sessions with a trainer and a free month of CrossFit.  You already know how awesome our community is, share the love with someone you love…or like, and get them into a community that will support them with their new year health and fitness goals.  Contact us with any questions!
Of course, you do not have to wait until Christmas either!  We would love to have your loved one or your friends come check us out anytime.  Whether its a free trial class, setting up an On-Ramp Package or doing a simple drop in, we want to show off our community and space!
——————————–
Upcoming Holiday Hours will be as follows:
Thanksgiving Day (Nov 22), Black Friday (Nov 23), Christmas Eve (Dec 24) and New Years Eve (Dec 31) will all have a 9:00am ONLY.
Christmas Day (Dec 25) and New Years Day (Jan 1) will be CLOSED.
——————————–
NEW and RETURNING Athletes:
Welcome to our newest members: Kendell Erb and Aaron Conway.  We are so excited to have you within our community and can't wait to see what you accomplish!
Welcome BACK:  Jessica Offley and Bruce Sicard.  We have missed you and are excited to have your energy back in the community!
Be sure to wish these awesome athletes a Happy Birthday!!
From all of us at CrossFit 45 North – May all of your birthday wishes come true! 

October Birthdays

Jessica Gunn – October 3
Julian Alvarez – October 16
David Brunner – October 23

November Birthdays

Melody Vega – November 26
Jamie Mertz – November 30

ROMWOD @ CrossFit 45 North
(Range Of Motion Workout Of the Day)

Did you know? You can sign up for a free 7 day ROMWOD trial.  If you love it, get signed up by clicking on the picture.

Give ROMWOD a try and get all flexy and swole!  Its great for a rest day workout.

Click on the photo to check out their site and sign up with your fellow athletes at CrossFit 45 North.

For 2018, we will have a clinic/event planned by your coaches and peers for each month in 2018.  If you have any ideas for future clinics/events, let us know!

————–

Everyday Warrior On-line Battle Series

When: November 1st-19th Who: EveryDay Warrior Time:  the weekly workouts will be programmed for classes @CF 45 North each Friday, 3 weeks in a row. Cost: $40 to compete or $55 to compete w/shirt Register: Click

HERE to register

!

Other Info: You all know how near and dear EveryDay Warrior is to us as a non-profit Organization!  This is one of their biggest fundraisers for EveryDay Warrior, lets show them our love and support!

Gobbler Gauntlet

When: November 10th
Who:
Register: By clicking HERE
Where: CrossFit 45 North
Other Info: compete or cheer on your fellow athletes 🙂  

Holiday Party & Christmas Movie Marathon Row

When: December 1st
Who:  Get your teams together now!  $10pp between 4-10 athletes on a team.
Time: Doors open at 10:00, start rowing anytime after
Where: CrossFit 45 North
Other Info: Wear your ugly sweater, bring a white elephant gift, bring some food to share and drinks to drink.  Family friendly for sure with Christmas Movies projected throughout the Row!
ShowCase Athlete
October 2018
Thanks to everyone who showed up on Saturday, OCTOBER 13th to donate blood!

We had 20 people stop by to make their donation and 18 of the 20 were able to donate a pint.  With 18 completed donations,  54 people who needed blood products, were able to get them because of you!

You all are real super heroes!!
Glute/Ham Activation Seminar
On October 16th, Coach Lindsay put on a seminar that would change our lives for the better!  Excellent work Lindsay and thanks to all the members who came to support and learn a thing or two about glute/ham activation!
Merry Christmas Holiday Movie Marathon Row

CF 45 North Holiday party!
December 1st – Doors open at 10:00am; team rowing can start anytime after doors open!!
We thought we would do a fun team competition, while watching Holiday Movies (Elf for sure and two others tbd) and celebrating the holidays with our CrossFit 45 North Family!

FOR THE PARTY – This will be our 2018 holiday party. So wear your ugly sweaters, bring your families, grab a white elephant gift, bring a dish to share and bring drinks of your choice!! This will be an all afternoon party/hang out/cheer session. Christmas/Holiday movies will be projected on the wall throughout the team row, about 5ish hours.

FOR THE ROW – Get your team together (4-10 people at $10/person), figure out a name and together, complete a MARATHON ROW (42,195 meters). Team members can row for as much or as little as they prefer. While not rowing, team members can cheer on their teammates and mingle with the community!
Let us know if you have questions 🙂
Start getting your team lined up!!
MASSAGE THERAPY AT
CROSSFIT 45 NORTH
We have an awesome massage therapist, Sarah Glidden, to help you keep moving day after day!  Her massage room is located at CrossFit 45 North so it is easy to take advantage of what Sarah has to offer!  
You can call or text (541-521-3664) to set up an appointment.
Call TODAY!

She offers 15, 30, 60 and 90 minute massages, also open to special requests. 
Ingredients
4 eggs, beaten

1/2 cup pumpkin puree
You may use canned, boxed, or fresh. The recipe works just-right with canned and yields a delicate pancake.

optional: 1-2 Tbsp of 

coconut flour




To keep the consistency a bit thicker/firmer if you use 

boxed

, or freshly cooked and strained pumpkin, you may need the 

coconut flour

. If you use it, I recommend sifting it into the wet ingredients slowly to combine it well.

2 tablespoons butter or 

coconut oil

, melted

1/4 teaspoon baking soda

1 teaspoon pumpkin pie spice
or

1/4 teaspoon ground ginger

1/8 teaspoon 

cloves
Preparation
Whisk the eggs, canned pumpkin, pure vanilla extract, and pure maple syrup together. Sift the pumpkin pie spice, cinnamon, and baking soda into the wet ingredients.

Melt 2 tablespoons of butter in a large skillet over medium heat. Then, mix the butter into the batter.

Grease the skillet and spoon the batter into the skillet to make pancakes of your desired size. When a few bubbles appear, flip the pancakes once to finish cooking.

Serve with 

grass-fed

 butter and cinnamon or sliced bananas.
Change it up
Instead of adding maple syrup to sweeten this recipe, try adding a mashed, whole ripe banana to the mixture. If you add a banana, the yield will increase.