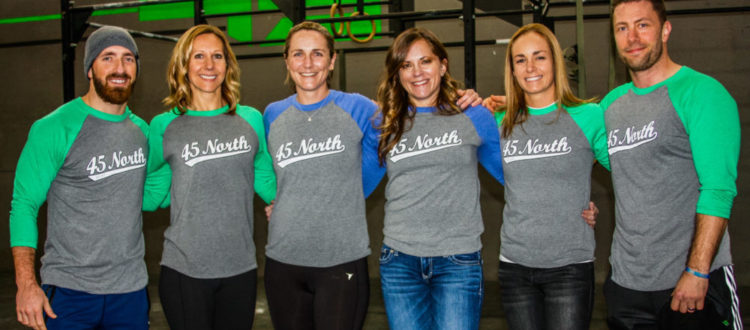 Athlete Showcase August 2018 – CF 45 North Coaches
ATHLETE SHOWCASE – AUGUST 2018
Get to 

know

 your coaches at CrossFit 45 North
Your Name:
Lindsay Hardison
Jennie Ruh
Christine Rosencrance
Greg/Coach Greg
Justin Kremm
Andrea Runde

Your Sign:
LH – Cancer
JR – Gemini
CR – Capricorn
GC – Aries
JK – Peace Sign
AR – Taurus – the BULL

Favorite color(s):
LH – Red
JR – Black
CR – Pink
GC – Black/red/blue
JK – Blue
AR – Purple, the color of royalty

Favorite/Lucky number(s):
LH – 24
JR – 4
CR – 7
GC – 27, 10
JK – 13
AR – 2, 11, 22

City and State of birth:
LH – Torrejon, Spain
JR – Medford, OR. 7th generation Oregonian
CR – San Francisco, CA
GC – Albany, NY
JK – East Chicago, Indiana
AR – Dubuque, IA

Highschool you attended:
LH – Hampton Christian High School (Hampton, VA)
JR – Ashland High School (Ashland, OR)
CR – Westview and Aloha
GC – Columbia High School
JK – Somerset Area High School (Somerset, PA)
AR – Dubuque Senior High School (Dubuque, IA) – Home of the Rams!

Your favorite CrossFit movement:
LH – Snatch
JR – Deadlift, DU's and DB split snatches
CR – Deadlift
GC – Clean/Pull ups
JK – Clean and maybe the Jerk too
AR – Thrusters – full body workout in one awful movement

Your most hated CrossFit movement:
LH – Weighted Lunges
JR – Legless Rope Climbs
CR – Thruster
GC – Overhead Squat
JK – Ring Muscle Ups
AR – Burpee – I am so slow, but at least I am able to do them

How long have you been a part of a CrossFit community?
LH – since 2009
JR – Doing CF for 8 1/2 years
CR – 8 years?
GC – Almost 5 years
JK – 5 years and change
AR – 6 years and 2 months

Why do you CrossFit:
LH – In general the community and like-mindedness it has generated locally and globally.  Personally, the challenge and pursuit of always trying to be a better human physically and mentally.
JR – I CrossFit for my health, for fun and to amaze myself at what we are capable of as humans.
CR – I love the people, the variety and how it changed my perception of health
GC – Because I coach – this gives me a chance to lead by example.  Also – I've been an athlete my whole life, I know that age is just a number and its absolutely imperative to move your body!
JK – Stress relief and community (LGN is always a nice bonus)
AR – The variety is what keeps me coming back, the difficulty is what makes it easy for me to make excuses.  I am working on less excuses!

Dream location to visit/travel:
LH – SCUBA Live-aboards diving across the South Pacific
JR – I would love to go to Greece
CR – Any tropical beach
GC – Rome, Manchester United Theater of Dreams, Japan, New Orleans
JK – Rome
AR – The United States have so many amazing places to go, I want to see them all!

Favorite past-time:
LH – Multiple past-times: tailgating for Gator games and grilling out in general; boating; beach time
JR – CrossFit, Camping with friends and family, anytime really that is spend with the ones I love.  Doesn't matter what we are doing 🙂
CR – Stand up paddle boarding
GC – Painting. Soccer.
JK – Singing classic rock songs poorly
AR – I enjoy anything active outdoors and indoors I would have to choose reading a good book (which seems to rarely happen)

Family (human and non-human):
LH – Beaverton Farm – Templeton (dog), Hudson (dog), Otis (cat) and Rupert (cat)
JR – I have two kids, Charlie 9 and Valerie 12.  As well as an amazing partner, Justin.  Also a dog and a cat.
CR – Husband – Dong, Kids – Nikki-22, Maddy-20, Isaac-12.  Cats – Momo and Maki, Dogs – Bailey and August
GC – Wife – Jessica. Son – Kai. Two cats: Stella (Sweet Pea) and Cooper
JK – Younger Bro – Douglas, Mother – Katherine, Beautiful Daughter – Katherine Grace
AR – My partner in life, Sara, and two little kitties, Ryane and Cooper, live in PDX with me.  My mom – Cindy, dad – Ken, older brother – Luke and his wife Sara have my two nieces Melanie (10) and Marissa (8),  and younger brother – Nate and his wife Karen have my niece Everly (5), my nephew Maxwell (3) along with a new little baby to arrive in September!!  They all live in Dubuque, IA.

Occupation:
LH – Fab Program Manager at Intel, CrossFit coach and owner.
JR – I'm a CF coach and owner and hairstylist and salon owner.
CR – Personal Trainer and CF coach.
GC – Graphic Artist, CrossFit Coach, Painter/Illustrator.
JK – Logistics for Micro Systems Engineering Inc.
AR – Nurse at OHSU 🙂  and Owner of the best CrossFit Gym in all the land!

Favorite book:
LH – Rising Strong by Brene Brown
JR – anything that is an escape.  No serious reads please 😉 
CR – Hustle, Believe, Receive by Sarah Centrella
GC – The Alchemist/ I am Third/ Everyday I Fight
JK – The Count of Monte Cristo
AR – The Harry Potter Series was WWWAAAAYYY better than I ever thought and it may have to be a re-read

Last book you read:
LH – Chasing Excellence by Ben Bergeron
JR – High Fidelity, for the second time.  Maybe that one is my favorite 
CR – Find Your Extraordinary by Jessica Herrin
GC – …
JK – Chasing Excellence by Ben Bergeron
AR – Perfectly Yourself by Matthew Kelly

Favorite movie:
LH – Finding Nemo
JR – Big Fish
CR – Elf
GC – The Insider/ Interstellar/ Inception/ John Wick
JC – Too tough to answer. Maybe Full Metal Jacket or Inception
AR – Tommy Boy

Last movie you watched:
LH – Coco
JR – Apocalypto
CR – ? I can't remember
GC – Mission Impossible: Fallout
JK – Yes Man
AR – Greatest Showman

Diet:
LH – Track macros a lot of the time
JR – Gluten and dairy free.  Pretty clean, but I'm human and allow myself cheat items.  Our member Ricardo makes AMAZING lumpia and I'll never pass it up!  Just one won't hurt 😉
CR – I don't like to label it.  Mostly high quality, nutrient dense food, Italian shakes, lots of fruit and veggies, but I also love my desserts
GC – While-30-ish-Paleo-ish-clean-eating-ish
JK – I loosely follow my original RP strength template but often experiment with different variations of dieting.  (Most recently intermittent fasting.)
AR – anything…but I try to keep a handle on eating somewhat decent!

Favorite meal/food?
LH – Meat and french fries (any combo)
JR – Queso!  Cheat meal!  Haha!
CR – Charlie Brown Bars from New Seasons
GC – Cake. Pizza. Cookies. Ice Cream. – very inspiring coach
JK – Pizza or a medium rare ribeye
AR – PIZZA!!!!  or Tacos 🙂

Music preference during workout:
LH- EDM
JR – Rap and/or country.
CR – Country or Gangsta Rap
GC – Angry, heavy and loud metal/hard rock…or…east coast hip hop
JK – I have a guilty pleasure of bad modern rap (drake) or Jock Jams
AR – I like all sorts of different music, as long as it doesn't seem like its yelling at me

Do you drink a gallon of fluids a day?
LH – Most likely not
JR – I do drink a gallon of water a day, at least.  Makes for lots of bathroom trips!
CR – Yes
GC – Probably not
JK – Sometimes 2.
AR – Most days I do not, but I try really hard…just not hard enough I guess.

Favorite/Most memorable CrossFit moment?
LH – Time after time when the community small and large band together to do great things – whether it is support the last person finishing, cheering for someone that just missed a lift or raises money to replace an entire gyms equipment after a hurricane demolished their box.
JR – Watching my friend Cindy wod while I coached shortly after her diagnosis of lung cancer.  I loved that she fought and that nothing was going to stop her from doing what she loved.
CR – Getting my first muscle up
GC – The day I PR'd my Clean and Jerk at a competition with my good friend John Oh.  I hit this PR with 2 seconds left on the clock with my coaches, fellow athletes from my box and my dad there.  Plus, I just started chemo/radiation 5 days prior.  Otherwise – anytime, ANYTIME, an athlete at my box hits a PR or hits a first time movement – it is absolute joy to watch someone succeed.
JK – Doing Murph for the first time (2 months into CrossFit)
AR – All of the Spring Showdowns we put on, they were all really cool for different reasons and it was great to bring our bigger CrossFit community together in our very own box!

If you could be an animal, what would you be?
LH – Reef tip shark
JR – If I were an animal, I'd be a house cat.  Probably a not too friendly one 😉
CR – A dog because they are so happy all of the time
GC – Ram
JK – Liger
AR – Some sort of bird who can fly all over the place and migrate every year to a new place!

What do you do to relax?
LH – Sit on my back patio on a warm evening tossing the ball time after time for Hudson.
JR – In the summertime, paddle board with my fam and friends.  In the winter, game nights and movies with my family.
CR – Get outside, get massages
GC – Relax? Your kidding, right?
JK – Meditation or ROMWOD
AR – After a busy day, I like to put my feet up and watch some mindless television or just sit in the quiet.  If its just to relax, go do some activity outside.

Anything else you would like to share:
LH – 
JR – I love CrossFit and our community.  I could not imagine my life without all of the people CrossFit has brought into my life.  Some of my best friends and people that I would be a fraction of the person I am without them.
CR – I have weird obsessions with lights and waterfalls
GC – (1) I played soccer for 25 years, coached for a couple of years and absolutely love the game…I don't care who is playing…but prefer my favorite team: Manchester United. (2) Two- time cancer survivor (3) I have had some 13 surgeries over the course of my life including an ACL replacement, life saving Brain surgery and two cancer surgeries. (4) I was told after cancer that I'd never be able to have kids.  I have one of the most amazing human beings I've ever known, my son Kai…my little miracle man.
JK – I have room for 2 new clients for anyone looking to improve their weightlifting! (Snatch and Clean and Jerk!)
AR – I didn't know anything about business until I started CF 45 North…I am still learning!  I also love "inventing" things that would be amazing and useful