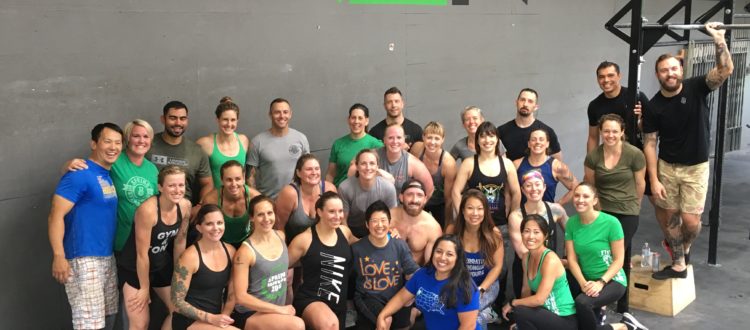 *|MC_PREVIEW_TEXT|*


~June 2018 ~Services we have to offer ~Birthdays  ~Upcoming Events/Seminars ~ROMWOD link ~Showcase Athlete Ariana Wittlake ~Anniversary WOD/BBQ Pictures  ~What is your Goal  ~Travel WODs ~PPS CrossFit Throwdown Pictures ~Memorial Day "Murph" Pictures ~Massage Therapy ~Chipotle Honey Chicken Skewers
June 2018
June is always a month of reflection at CrossFit 45 North because it is our anniversary month.  June 11, 2012 was our opening day.  Our first class was the 5:15am class, coached by Catherine Blatner and attended by these 7 awesome individuals.
Christine Rosencrance, Lori Edelman, Rosemary Barrow, Cindy Luong Archibald, Catherine Blatner, Erica Tan, Skye Tyler and Edwin Periera.
These were just 7 of the MANY people who believed in what we were starting and 3 of them, Lori (in Minnie Mouse pink), Cindy (in vibrant yellow) and Erica (our ninja in gray) believed in us enough to invest in CrossFit 45 North and get our operation up and running.  All of you know Erica and know that she continues to be an active and consistent member with the happiest and best attitude a person can have. She loves this community and it shows in her dedication to effortlessly create a positive environment around her at the box.  Most of you remember Lori, who moved to Florida a year ago to live near her beloved Disney World.  Even from afar, we know and hear that Lori continues to be proud of the community CrossFit 45 North has established.  Some of you remember Cindy, who sadly passed away from lung cancer in 2015.  Even though Cindy is not physically with us, she has an incredible presence at CrossFit 45 North.  Our PR Bell, in honor of our #warriormom, is rung by every athlete of the gym anytime they have reached a Personal Record…whether it be in the gym or in life.  Cindy reminds us, "Don't Wait" on a doorway entering into the gym space.  Her vibrant smile is found in the pictures hung in the hallway and with every picture of Cindy, you can her her laugh and her tough mom attitude telling  you to work harder and live your life to its fullest.
These three awesome people, along with everyone else who believed in, and continues to believe in, CrossFit 45 North from the beginning, have come together for 6 years to create the community we have today.  As with any family, we too have experienced so many different moments, created a million memories, and have watched our own family come and go. 
Jennie, Lindsay, Christine, Greg, Justin and myself want to thank you all for helping to keep our amazing community of people and for giving us the opportunity to be in your life and for allowing us to help create a healthier you.  We love our community and we look forward to what the future holds.  
To Jennie, Lindsay, Christine, Greg, Justin and the CrossFit 45 North community – THANK YOU for believing in me!!  This community over the past 6 years has made me a much better human and has shown me how awesome humanity is.  There is more support and love in these 4 walls than I ever would have imagined and I cannot see my life without this place and these people.
Enjoy some of the beginning photos of CrossFit 45 North, Circa 2012:
——————————–
NEW and RETURNING Athletes:
Welcome to Sandra Bezzam who started On-Ramp May 31st!  It's great to have you as a part of the 45 North Community!
Welcome back to Bill and Tara DeMetz!  We have missed you both and it is so great to see your faces back at the box!
Do you know someone…
Who is interested in CrossFit or just getting into better shape?  We offer something for everyone as well as body recovery!  Lets get these individuals into our supportive community.  With some guidance and all of our support, they will reach their goals and begin feeling a change they will love.
This is what we have to offer!!
———————-
Be sure to wish these awesome athletes a Happy Birthday!!  
From all of us at CrossFit 45 North – May all of your birthday wishes come true! 
 

June Birthdays

Irene Longworth – June 3
Ethan Dean – June 7
Jennie Faber – June 9
Morgan Schmidt – June 14
Keegan King – June 17
Danielle Calderon – June 25
Ricci Sandoval – June 30

July Birthdays

Lindsay Hardison – July 3
Mary Ellis – July 5




ROMWOD @ CrossFit 45 North
(Range Of Motion Workout Of the Day)

We are setting aside time everyday at 5:30pm to have ROMWOD on the main television.  

Did you know? You can sign up for a free 7 day ROMWOD trial.  If you love it, get signed up by clicking on the picture.

Give ROMWOD a try and get all flexy and swole!  Its great for a rest day workout.

Click on the photo to check out their site and sign up with your fellow athletes at CrossFit 45 North.

For 2018, we will have a clinic/event planned by your coaches and peers for each month in 2018.  If you have any ideas for future clinics/events, let us know!

————–

 

 

Shoulder to OverHead Clinic

 

When: July 20th
Who: Greg Casey
Time:  TBD
Where: CrossFit 45 North
Cost: $10
Other Info: stay tuned for more
 

Mobility Clinic

 

When: August
Who: Christine Rosencrance
Time:  TBD
Where: CrossFit 45 North
Cost: $10
Other Info: stay tuned for more

**Rowing Clinic

 

When: September 14th
Who: Emery Collins
Time:  TBD
Where: CrossFit 45 North
Cost: $10
Other Info: stay tuned for more  

Pre-Hab/Glute Activation Clinic

 

When: October 19th
Who: Lindsay Hardison
Time:  TBD
Where: CrossFit 45 North
Cost: $10
Other Info: stay tuned for more
ShowCase Athlete
June 2018
Pictures from our Anniversary
Team WOD and BBQ
Just as last year, three teams were created – Green team (Captain = Coach Lindsay), Black/Blue team (Captain = Coach Jennie) and Gray team (Captain = Coach Christine).  Three workouts that were 6 minutes each were set up.  Each team posted up at a station and after all team members completed the workout, would rotate to the next station.  

 The Black/Blue team was defending their title from 2017 but was not able to hold off the Green team from running away with it in 2018!!

Way to go to all of the participants, you all worked hard and gave your best!
Are you traveling this summer and 

don't

 want to miss a workout?
100 workouts just for you!
No equipment necessary! Click on the picture or link below to get to the link.
PPS CrossFit Throwdown
Portland, OR, On May 18th at Cleveland High School in Portland, OR
Erica Tan and Kate Dillon (Team Sumo Anarchy) along with Jaime Larson and Amanda Bracken (Team Bacon and Burpees) helped to support the CrossFit Program at their High School.  
Looks like they had a blast, way to go you gals!
Are you competing in a competition??  We want to show you off, so send us your pictures!
Memorial Day "Murph"


Monday, May 28th @ CrossFit 45 North
Congratulations to everyone completed "Murph".  Everyones version is a bit different but we all have to dig deep to get through the workout.  This workout is always an honor to complete.  While we do not know what our soldiers go through to keep our country free, we do what we can to support them.
 
"Murph"  
1 mile run
100 pull ups
200 push ups
300 air squats
1 mile run
MASSAGE THERAPY AT
CROSSFIT 45 NORTH
We have an awesome massage therapist to help you keep moving day after day!  Take advantage of what Sarah has to offer!
 
Sarah Gliddan
Sarah is available every Saturday from 10:00am to 2:00p or by appointment,  You can call or text (541-521-3664) to set up an appointment.  She offers 15, 30, 60 and 90 minute massages, also open to special requests. 
Ingredients: Sauce
– 4 chicken breasts
– 1/4 cup raw unfiltered honey
– 1/4 cup tomato paste or sun-dried tomato past
– 2 tablespoons apple cider vinegar
– 1 teaspoon chipotle chili powder
– 1 clove garlic, finely chopped
– wooden skewers
Instructions:
Slice chicken into very thin strips with a very sharp knife.  Thread accordion-style onto wooden skewers.


 

In a small bowl, whisk together honey, tomato paste, apple cider vinegar, chipotle chili, and chopped garlic. Spoon sauce over skewers. 


 

Cook skewers on a hot grill and cook for 10-12 minutes or until chicken is fully cooked, basting with sauce and turning every 2-3 minutes to evenly cook the entire skewer of chicken. 


 

Alternately, the skewers can be baked in an oven preheated to 400 degrees for 16-18 minutes, or until fully cooked.

Enjoy!