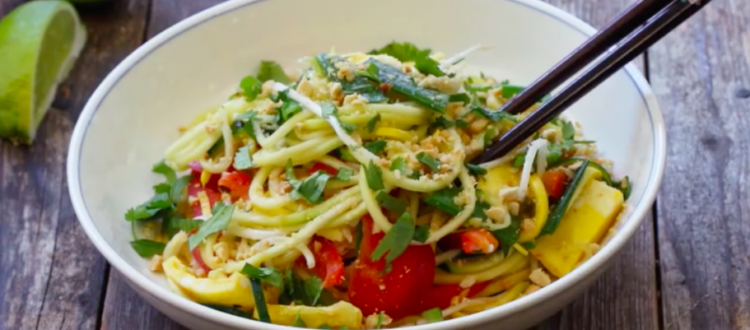 *|MC_PREVIEW_TEXT|*


~July 2018 ~Services we have to offer ~Birthdays  ~Upcoming Events/Seminars ~ROMWOD link ~Showcase Athlete Jay Van Rhyn  ~What is your Goal  ~Travel WODs  ~Massage Therapy ~Summer Squash Pad Thai
July 2018
July has always been a busy month for the world of sports and this year is no different!  The showcase of amazing athletes in sports around the world is well underway!  
We all were caught up in the best of teams in mens soccer during the World Cup and the very best of individuals in mens and womens tennis showcased themselves at the notorious Wimbledon.  Both events finished up last week and while we were still reeling from the winnings of these two major events, the best men in cycling kick off the Tour de France.  Every year that I watch the Tour de France, I am amazed at the endurance and incredible strength that these athletes have.  They train every day of the year for this incredible 21 day opportunity to work as a team proving they are the best.  In the middle of the tour, the mens and womens Rugby World Cup as well as some of the best mens golfers in the world play in The Open Championship.  Both of these events will culminate this weekend and again, we will be amazed by these athletes and the dedication they put in day in and day out to be the best in their respective sports.  
In our very own sport, The 2018 CrossFit Games are just around the corner!  On August 1st, CrossFits best athletes from all around the world, will be competing to be the fittest person on earth.  What I have always loved about CrossFit is that everyday people can do the workouts that our CrossFit Games athletes are doing.  It has always been about functional and adaptable fitness.  Watch the leaders in our sport and get inspired to work hard to make yourself a better and more healthy individual, day in and day out.  While we may not ever be professional, we can work hard to be the best version of ourselves physically.  Push yourself each day of the year and feel proud of yourself for getting out there and making good things happen for the one who matters most, you!
We are proud to have you as a part of our CrossFit 45 North community and be sure to take advantage of what a community can help you accomplish!  We are all on your side, ready to cheer you on towards all of your fitness goals 🙂  Get after it all of you outstanding athletes!
——————————–
NEW and RETURNING Athletes:
Welcome to our newest members: Julian Alvarez, Summer Melahn, Carl Moyer, Melanie Seidel, Quan Le, Pentti Forsman, Ricardo Alazas, and Kayleigh Arendt.  It is so great to have you as a part of the 45 North Community!
Do you know someone…
Who is interested in CrossFit or just getting into better shape?  We offer something for everyone as well as body recovery!  Lets get these individuals into our supportive community.  With some guidance and all of our support, they will reach their goals and begin feeling a change they will love.
This is what we have to offer!!
———————-
Be sure to wish these awesome athletes a Happy Birthday!!  
From all of us at CrossFit 45 North – May all of your birthday wishes come true! 
 

July Birthdays

Lindsay Hardison – July 3
Mary Ellis – July 5

August Birthdays

Cheryl Haley – August 5
Ricardo Alazas – August 7
Micah Ritschard – August 8
Amanda Bracken – August 10
Jaime Larson – August 13
Kryssia Diaz – August 17
Lee Brown – August 26
Quan Le – August 27
Hope Whitman – August 28
 




ROMWOD @ CrossFit 45 North
(Range Of Motion Workout Of the Day)

We are setting aside time everyday at 5:30pm to have ROMWOD on the main television.  

Did you know? You can sign up for a free 7 day ROMWOD trial.  If you love it, get signed up by clicking on the picture.

Give ROMWOD a try and get all flexy and swole!  Its great for a rest day workout.

Click on the photo to check out their site and sign up with your fellow athletes at CrossFit 45 North.

For 2018, we will have a clinic/event planned by your coaches and peers for each month in 2018.  If you have any ideas for future clinics/events, let us know!

————–

 

 

Shoulder to OverHead Clinic

 

When: July 20th
Who: Greg Casey
Time:  TBD
Where: CrossFit 45 North
Cost: $10
Other Info: stay tuned for more
 

Mobility Clinic

 

When: August
Who: Christine Rosencrance
Time:  TBD
Where: CrossFit 45 North
Cost: $10
Other Info: stay tuned for more

**Rowing Clinic

 

When: September 14th
Who: Emery Collins
Time:  TBD
Where: CrossFit 45 North
Cost: $10
Other Info: stay tuned for more  

Pre-Hab/Glute Activation Clinic

 

When: October 19th
Who: Lindsay Hardison
Time:  TBD
Where: CrossFit 45 North
Cost: $10
Other Info: stay tuned for more
ShowCase Athlete
July 2018
Are you traveling this summer and 

don't

 want to miss a workout?
100 workouts just for you!
No equipment necessary! Click on the picture or link below to get to the link.
MASSAGE THERAPY AT
CROSSFIT 45 NORTH
We have an awesome massage therapist, Sarah Gliddan, to help you keep moving day after day!  Her massage room is within CrossFit 45 North so it is easy to take advantage of what Sarah has to offer!  
Sarah is available every Saturday from 10:00am to 2:00p or by appointment.
 
You can call or text (541-521-3664) to set up an appointment.  

She offers 15, 30, 60 and 90 minute massages, also open to special requests. 
Ingredients:
12 cups of zucchini and/or squash spiraled noodles

3 tablespoons rice vinegar

2 tablespoons fish sauce

1 tablespoon honey

2 teaspoons chile-garlic sauce

1 teaspoon peanut oil plus ¼ cup, divided

4 large eggs, beaten

1 medium red bell pepper, thinly sliced

6 scallions, sliced in 1-inch pieces

3 large cloves garlic, minced

3 cups bean sprouts

¼ cup roasted peanuts, chopped (optional)

¼ cup coarsely chopped fresh cilantro (optional)

4 lime wedges (optional)
Instructions:
Combine vinegar, fish sauce, honey and chile-garlic sauce in a small bowl. Place near the stove.

Set a 14-inch flat-bottom carbon-steel wok or large skillet over high heat until hot. Swirl in 1 teaspoon oil. Add eggs and cook, without stirring, until set, 30 to 40 seconds. Flip over and cook until set on the other side, about 30 seconds more. Transfer to a plate.

Swirl the remaining ¼ cup oil into the wok (or pan). Add the squash noodles, bell pepper, scallions and garlic; cook, stirring occasionally, until the vegetables are soft, about 5 minutes. Add bean sprouts and the reserved sauce and toss until heated through, 1 to 2 minutes.

Slice or chop the egg. Serve the noodles topped with the egg and garnished with peanuts, cilantro and lime wedges, if desired.

Enjoy!