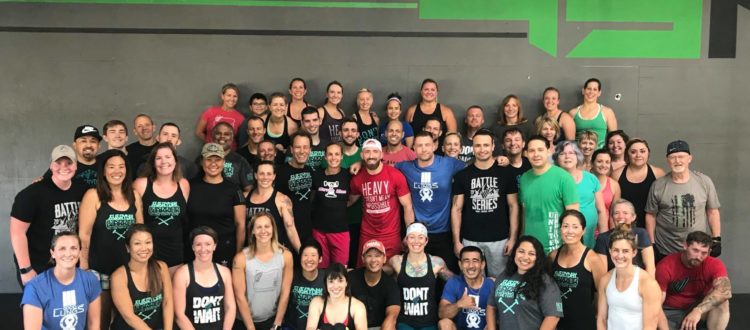 *|MC_PREVIEW_TEXT|*


~August 2018 ~Awesome photos ~Services we have to offer ~Birthdays  ~Upcoming Events/Seminars ~ROMWOD link ~Rogue Rampage Pictures ~Showcase Athletes  ~What is your Goal  ~Travel WODs  ~Massage Therapy ~Salmon Meatballs with Avocado Crema
August 2018
September is a mear 3 days away but you have not yet heard about all the great things that have been happening at CrossFit 45 North this last month!  We have so much going on that I don't want anyone to miss out.
We have had some pretty amazing moments since our last newsletter.  These moments have really drilled in the reason CrossFit is so near and dear to my heart.  Anyone who has been in a CrossFit community knows the feeling I have and am speaking to.  CrossFit is all about community and community is what keeps us coming back day after day, month after month and for all of the love we have for each other.  We use our community for the ups and downs in life.  Together, we celebrate the good, workout the not so good and mourn our losses.  We praise each other when we get a PR and we encourage each other to keep trying when we fall just a bit short, because we know we all have it in us!  
In early August, our very own Stephen Berry needed our community support and our community brought it.  In 2012, Stephen was diagnosed with inoperable stage III non-small-lung cancer that had already metastasized to his throat.  This guy has been a superhero within the CrossFit Community.  So much so, he was the Inaugural Featured Athlete in the Non-Profit we have all come to know and love as, EVERYDAY WARRIOR.  Read his story by clicking on EVERYDAY WARRIOR and learn what this Non-Profit Organization has done for Stephen and so many others within the United States CrossFit World.  So when our CrossFit community heard about Stephen needing some much needed support, it didn't take long to set up.  On August 18th, CrossFit 45 North hosted a workout and invited the CrossFit community in the surrounding area to join us.  The outpouring of support was incredible!  We had boxes from Orlando, Florida to Medford, Oregon to Hillsboro, Oregon joining together to support.  The pictures below will show you what words cannot describe.  Support Stephen and Everyday Warrior by purchasing his featured shirt – "Better Than I Deserve" Shirt.
This impromptu event was so awesome to be a part of and it shows the strength of community as a whole.  That is not all that has been happening within our four walls!
Our Seminars have continued through the summer and continue to help guide all of us with our particular lifts and our abilities to lift better and easier!  In July, Coach Greg took over the gym to introduce different ques and techniques to help us lift weight from our Shoulders to OverHead.  

In August, Coach Christine helped people move and groove much easier with her Mobility Clinic.  Mobility helps us in all of our lifts along with our workout recovery.  Christine is also an avid supporter of RomWod, which can be done at home or at the box, to help you be able to move easier in the gym and in your everyday world.  

We have a few more of these clinics in the pipeline for September and October, so please be sure to check them out under the upcoming events column just below.  
Thank you for making this summer an amazing summer and for living up to what the CrossFit Community is all about.  We cannot wait to see what the fall has in store for all of us!
——————————–
NEW and RETURNING Athletes:
Welcome to our newest member: Kai Clark, it is so great to have you as a part of the 45 North Community! 
Welcome back to our returning members: Hope Whitman, Morgan Schmidt, and Richard Dixon.  We love having you back!!
Do you know someone…


who is interested in CrossFit or just getting into better shape?  We offer something for everyone as well as body recovery!  Word of mouth is the best way to get people into our box and you all live by how great this community is!!  Lets get these individuals through the doors.  With guidance and the support of the community, they will reach their goals and begin feeling a change they will love.
Click on the picture below to get more information on 
what we have to offer!!
———————-
Be sure to wish these awesome athletes a Happy Birthday!!  
From all of us at CrossFit 45 North – May all of your birthday wishes come true! 
 

August Birthdays

Cheryl Haley – August 5
Ricardo Alazas – August 7
Micah Ritschard – August 8
Amanda Bracken – August 10
Jaime Larson – August 13
Kryssia Diaz – August 17
Lee Brown – August 26
Hope Whitman – August 28

September Birthdays

Erica Tan – September 11
Ariana Wittlake – September 17
Kryssia Diaz – September 17
Jorge Castaneda – September 22
Kai Clark – September 24




ROMWOD @ CrossFit 45 North
(Range Of Motion Workout Of the Day)

Did you know? You can sign up for a free 7 day ROMWOD trial.  If you love it, get signed up by clicking on the picture.

Give ROMWOD a try and get all flexy and swole!  Its great for a rest day workout.

Click on the photo to check out their site and sign up with your fellow athletes at CrossFit 45 North.

For 2018, we will have a clinic/event planned by your coaches and peers for each month in 2018.  If you have any ideas for future clinics/events, let us know!

————–

 

 

Booties in Action-All Women's Throwdown

 

When: September 8th What: An all women's throw down designed to motivate women to take action and make a difference in their own lives and in the lives of others Where: CrossFit Wilsonville
Cost: $10
Other Info: BnA will give 25% of the ALL proceeds raised to Raphael House of Portland, an amazing multi-facted domestic violence agency

Rowing Clinic

 

When: September 14th
Who: Emery Collins
Time:  1800-2000
Where: CrossFit 45 North
Cost: $10
Other Info: stay tuned for more  

Pre-Hab/Glute Activation Clinic

 

When: October 19th
Who: Lindsay Hardison
Time:  TBD
Where: CrossFit 45 North
Cost: $10
Other Info: stay tuned for more
Way to go Emery Collins and Kate Dillon for competing in the BRUTAL heat at the Rogue Rampage on August 4th.  

You both did amazing and we are so proud of you!!  
ShowCase Athletes
AUGUST 2018
Are you traveling this fall and 

don't

 want to miss a workout?
100 workouts just for you!
No equipment necessary! Click on the picture or link below to get to the link.
MASSAGE THERAPY AT
CROSSFIT 45 NORTH
We have an awesome massage therapist, Sarah Gliddan, to help you keep moving day after day!  Her massage room is located at CrossFit 45 North so it is easy to take advantage of what Sarah has to offer!  
You can call or text (541-521-3664) to set up an appointment.  
Call TODAY!

She offers 15, 30, 60 and 90 minute massages, also open to special requests. 
Ingredients for Meatballs:
1 lb. salmon filet, skinned, cut into cubes

1/4 cup panic breadcrumbs

1/2 tsp chili powder

2 tbsp freshly chopped parsley

2 cloves garlic, minced

1 egg

Kosher salt

Freshly ground black pepper
Ingredients for Avocado Crema:
1 avocado

Juice of 2 limes

1/4 cup sour cream or greek yogart

1/4 cup basil

2 tbsp parsley
Instructions:
Preheat oven to 350º. Line a large, rimmed baking sheet with parchment paper and coat with cooking spray.

Make salmon meatballs: In the bowl of a food processor, add salmon. Process until finely chopped, then transfer to a large bowl. Add Panko, chili powder, parsley, garlic, and egg and season generously with salt and pepper. Stir to combine, then form into tablespoon-sized meatballs. Place onto baking sheet. 

Bake until meatballs are slightly golden and cooked through, 15-17 minutes. Meanwhile, make avocado crema: In a food processor, add avocado, lime juice, yogurt, basil, and parsley. Season with salt and pepper, then process until smooth. If the sauce is too thick, thin it out with water.

Serve meatballs drizzled with avocado crema and garnish with more parsley

Enjoy!